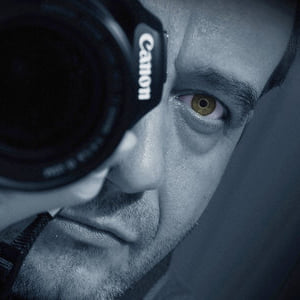 Joan Roca Febrer
Biography
WELCOME to my Photo Web. I'm a professional free-lance photographer very much focused on fine art portraits. May I help you? Contact me! I'll be pleased to know from you and start a new project, your project.
BENVINGUTS a la meva Photo Web. Sóc un fotògraf professional free-lance especialitzat en retrat artístic. Puc ajudarte? Posat en contacte amb mi! Celebraré saber de tu i començar un nou projecte; el teu projecte.
BIENVENIDOS a mi Photo Web. Soy un fotógrafo profesional free-lance especializado en retrato artístico. ¿Puedo ayudarte? Ponte en contacto conmigo. Me gustará saber de ti y empezar un nuevo proyecto; tu proyecto.
Al igual que los pintores emplean parecidas pinturas, lienzos y pinceles, nosotros los fotógrafos empleamos también "herramientas" parecidas.
Lo que verdaderamente nos distingue, lo que nos hace únicos, es cómo vemos lo que miramos... y cómo manejamos la luz.
Y en el caso del retrato -da igual si glamour, boudoir, desnudo, familiar, etc.- al VER hay que añadir el TRATO. En el caso concreto del retrato femenino sensual, la relación que establezcamos con la modelo nos permitirá verla mejor... y plasmar lo mejor de ella. Y ese trato habrá de ser directo, natural, cercano, respetuoso y exquisito. How you behave and connect is a major part of more intimate photography.
http://youtu.be/KpIOuoiI6Vg
"You don't make a photograph just with a camera. You bring to the act of photography all the pictures you have seen, the books you have read, the music you have heard, the people you have loved." - Ansel Adams
"You capture what you see and you see what you are" - Joan Roca Febrer
Contact